About Lodgeport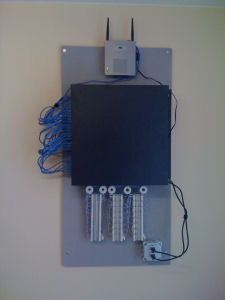 Lodgeport began when our company's founder Chris Billings was setting up a computer store. After 12 years of working for British Airway as an IT manager, Chris was looking to go in a different direction and decided to setup a retail computer store. The very first customer he obtained was a general contractor looking for assistance with installing WIFI systems at two new construction hotels; Four Points by Sheraton and a Holiday Inn Express.
After completing these projects, he went on to install WIFI systems in other hotels and he quickly found a need for WIFI design,installation, and support services because many hoteliers didn't understand how to deploy WIFI networks that worked with mobile devices like the iPhone, iPad and other mobile devices. They tried to deploy networks using off the shelf consumer gear which resulted in lots of complaints because the devices selected simply couldn't handle the high number of WIFI connections in a hotel environment.
In addition to design and installation services, Lodgeport also provides 24x7 guest telephone support services and onsite technical support services to the properties. We believe that making guests happy requires not only the best technology, but also responsive support that understands the technology they are supporting.
Our current focus is on continuing to provide our quality products and customer support to Hotels, High-End Resorts, Condos, and selling DirecTV and Viasat Internet services to consumers. We also provide IP surveillance solutions and we have positioned ourselves with the best names in the IT equipment industry to include Ruckus Wireless, Cisco, Juniper Networks, ZyXEL, Netgear, Ubiquiti.
Over the past 5 years, we have specialized in providing wireless WIFI networks to the hotel industry. Along the way we have entered into agreements with top tier manufacturers to include Ruckus Wireless, Cisco Meraki, Juniper, ZyXEL Communications, D-Link, Netgear, Ubiquity and many more.
In addition to WIFI design and installation, we also install, and support telephone systems and IP camera systems. We are ViaSat and DirecTV authorized agents and resellers. Not only can we install a top quality WIFI system, we can also provide you with in room DirecTV services to include equipment installation and custom programming. We will work with you to find the right programming packages that fit your hotel. If you live in an area that cannot get high speed internet from cable, DSL, or Fiber, we are also Viasat authorized resellers. We can get you setup with a reliable Internet service via satellite with speeds up to 100 megs.
Lodgeport offers a full line of Wi-Fi products from hotspots to DirecTV and Hospitality solutions, including billing and management. As expectations continue to rise for the availability and quality of Wi-Fi solutions, Lodgeport strives to meet your needs and provide the solutions that your guests and visitors demand. Our flexibility allows us to adapt to changing requirements and technology developments, and we work with the best technology providers in the industry, making us the ideal partner to help bring your Wi-Fi solution into the future.